For information concerning purchase, please contact mary@maryscattergood.com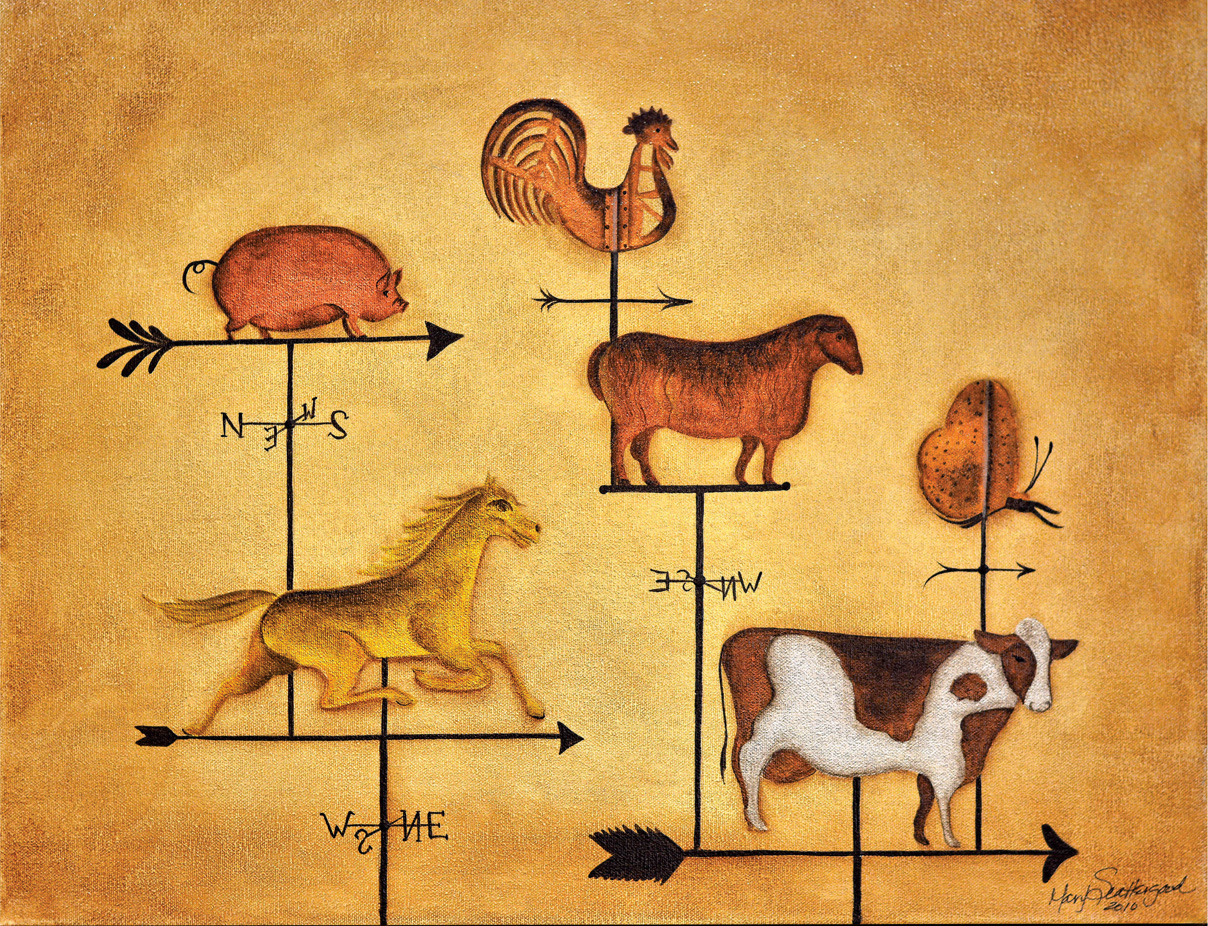 Antique Weather Vanes
Inspired by the collection of antique weather vanes at the Folk Art Museum in Williamsburg, Virginia. On many of the old farms the weathervane was an indication of the type of farming which took place there.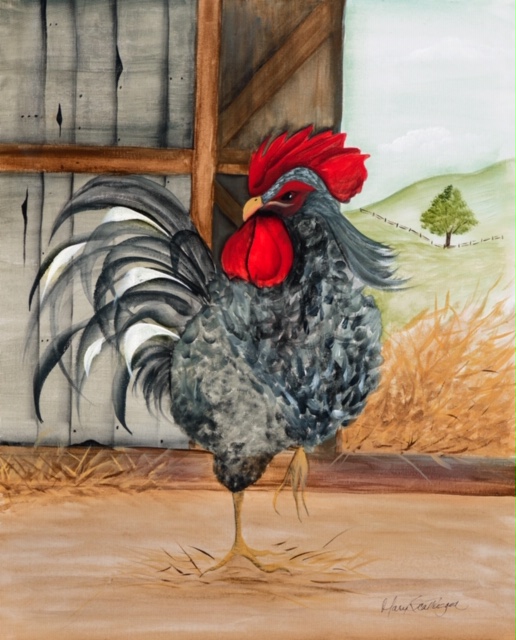 Barnyard Boss
My grandchildren spend a lot of time at Riveridge Farm in Caledon. I'm always amazed to see them push their way between the huge cows to feed them apples and carrots. The roosters however command their ultimate respect and a wide berth.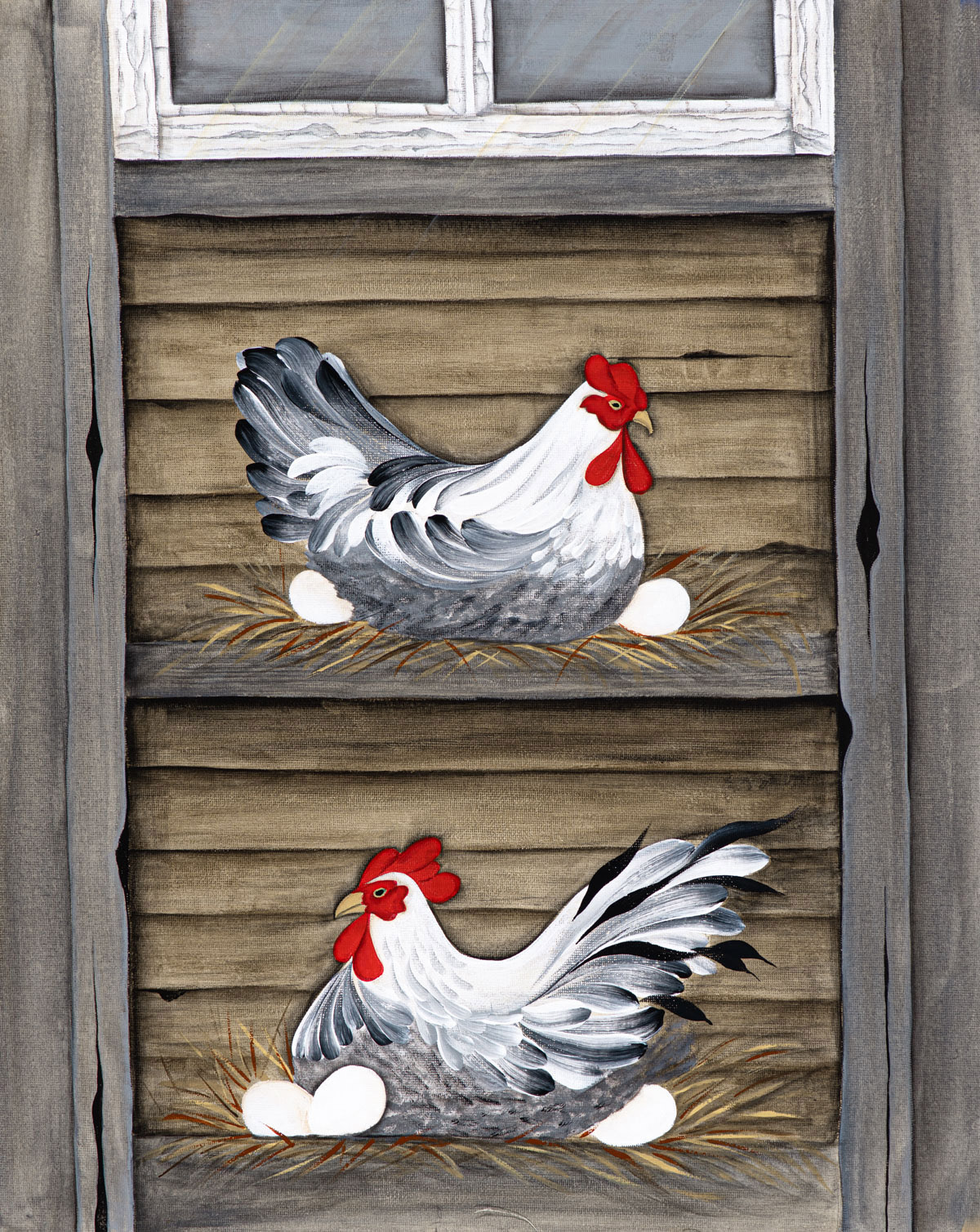 In The Coop
These ladies are part of the harem of the Barnyard Boss. It is a thank you for all the delicious eggs we enjoy from the farm.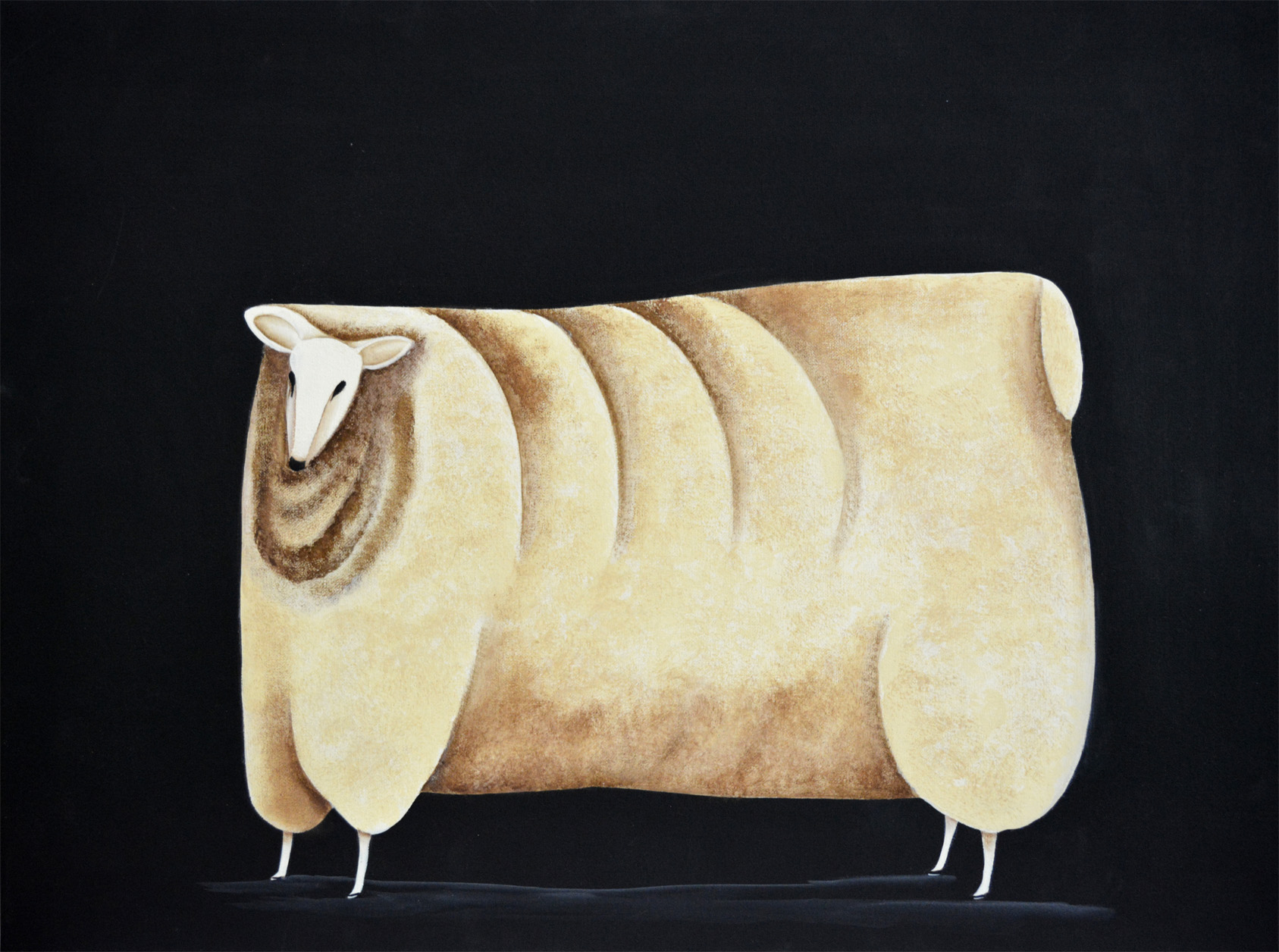 Primitive Sheep
I have always had a fondness for sheep since my weaving days. They kindly provide comfort and warmth. This sheep is ready to meet the shears.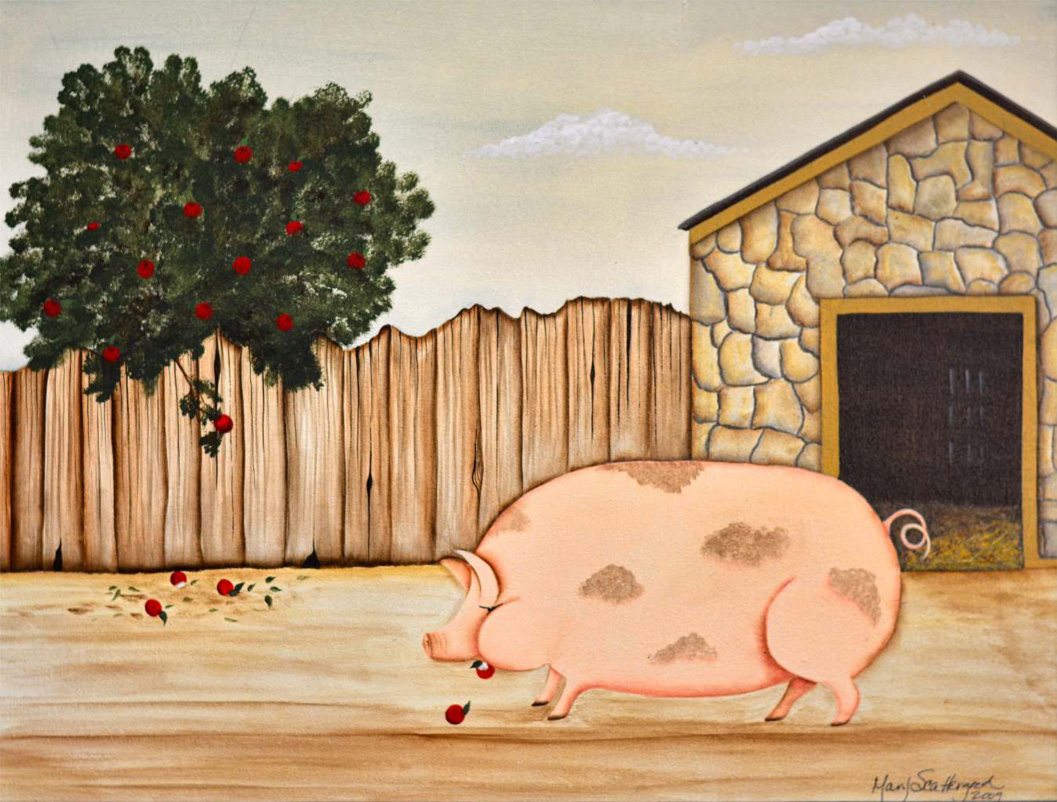 Puck's Pig
Painted for my grandson, Duncan, after a visit to Puck's Farm in King Township. Neither of us could believe the size of that pig and we went back several times to visit her.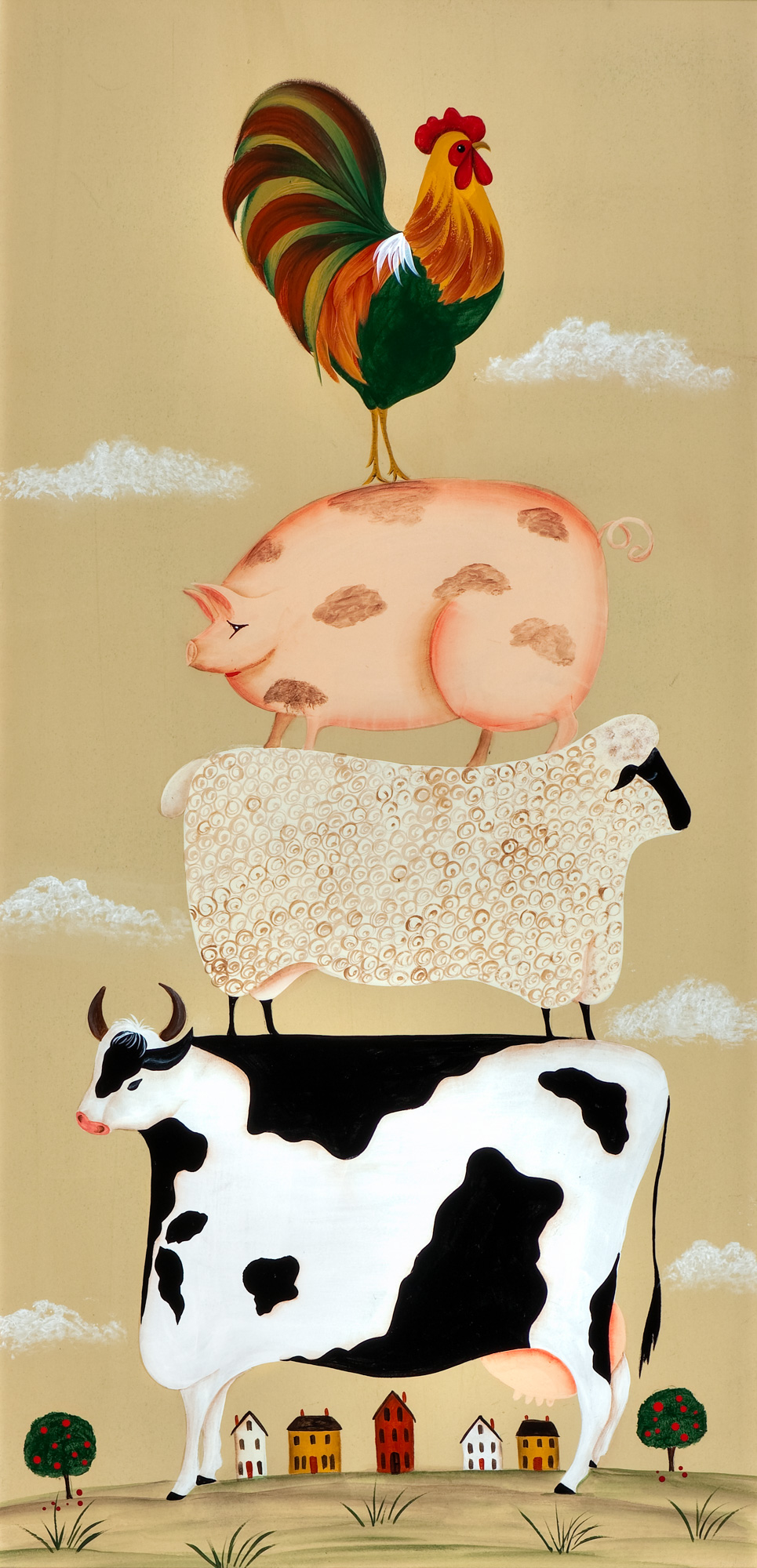 Folk Art Pyramid
This lovely arrangement of animals has been around for several hundred years in many forms. I have painted it myself numerous times. To me this represents a true example of American Folk Art.
Original Sold
Giclee Reproduction Available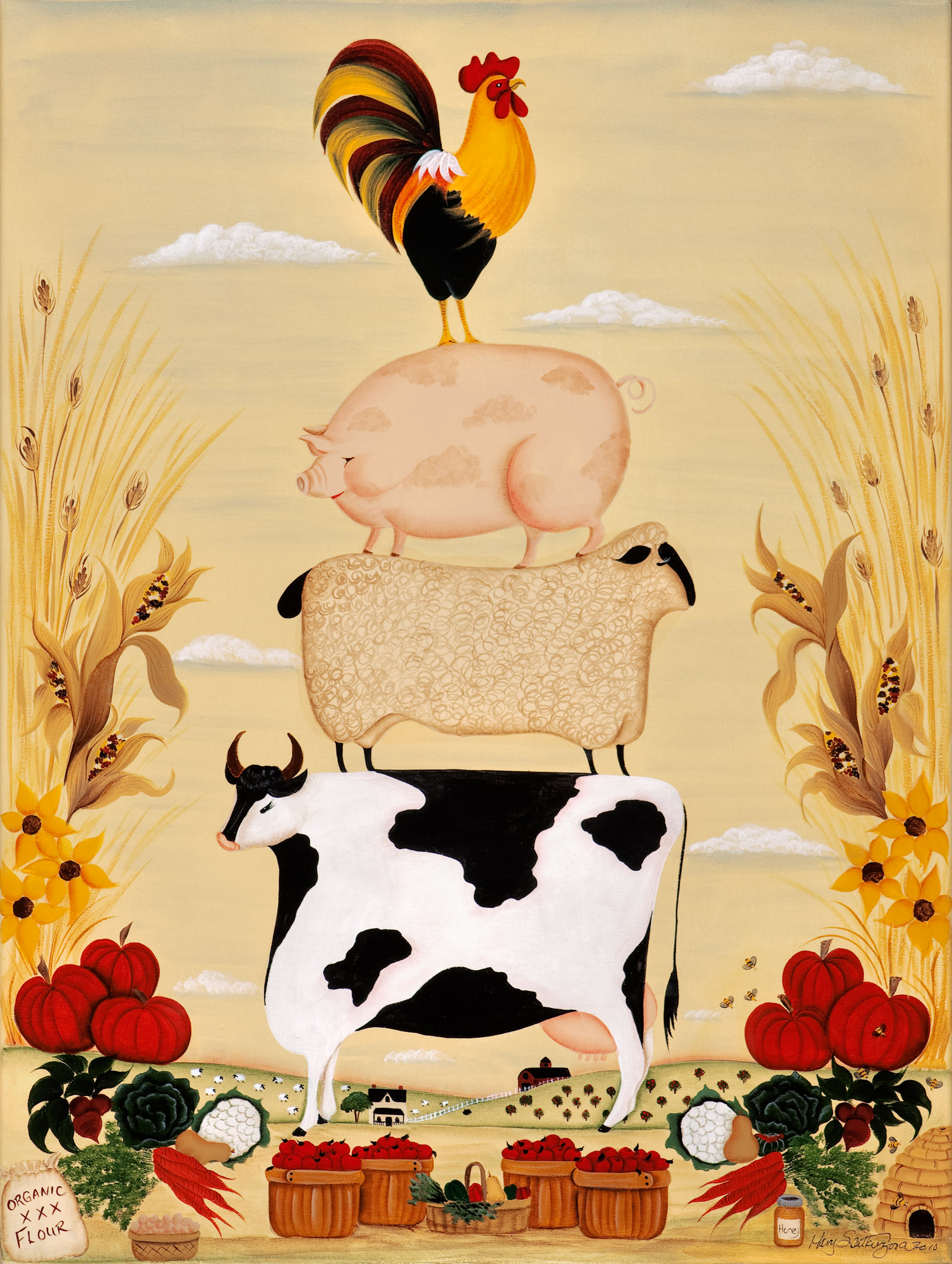 Feast of Fields
A wonderful outdoor, organic, culinary festival which was held locally for years. Painted as a fund raiser for The Children's Organic Garden at Cold Creek Conservation, the Folk Art Pyramid is shown surrounded by local produce.
Orignal Sold
Giclee Reproduction Available
In the early 1700 to 1800's on the eastern seaboard of the United States and some parts of Canada, itinerant artists would travel to the fall agricultural fairs. They would paint the prize winning animals larger than life to fan the farmer's ego and insure the sale of the painting.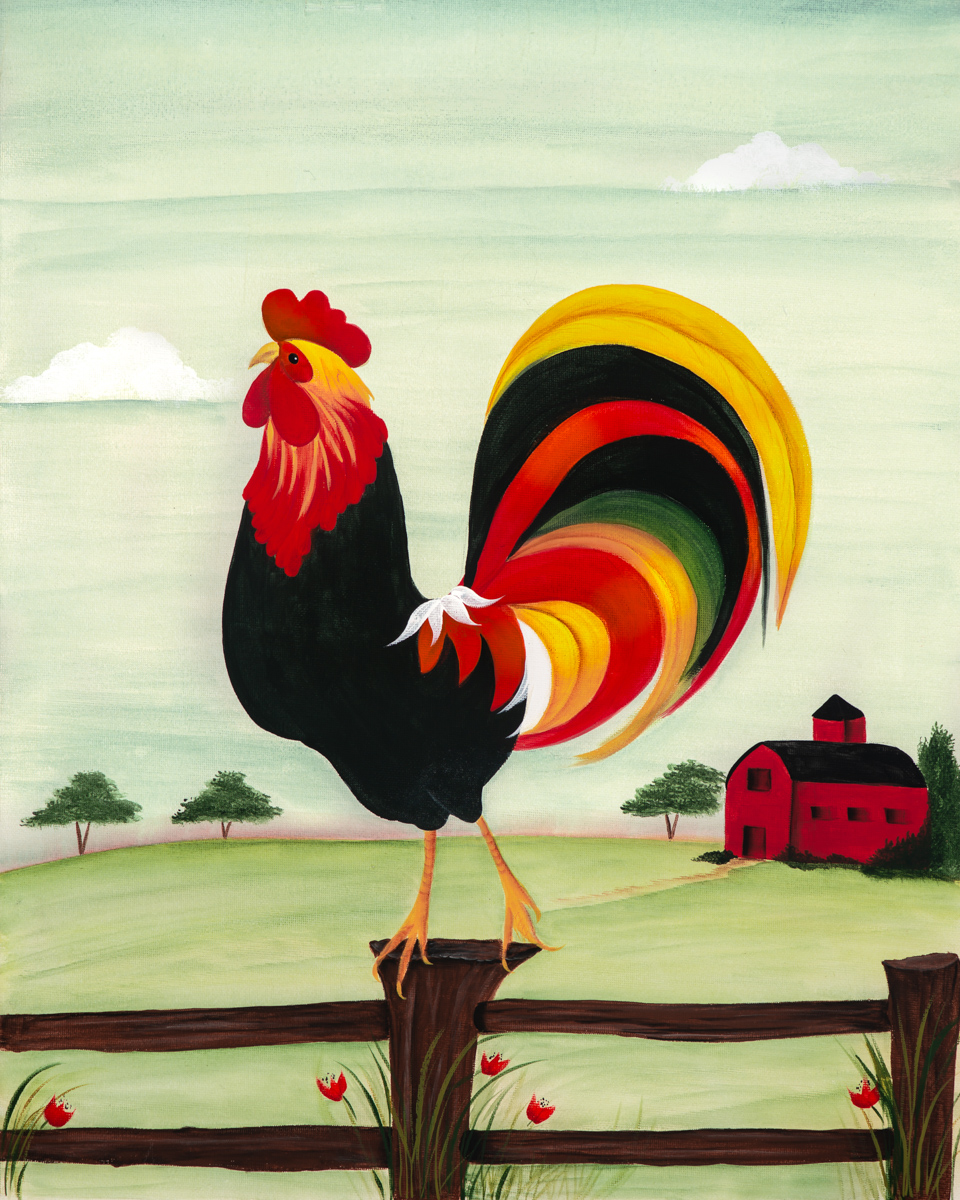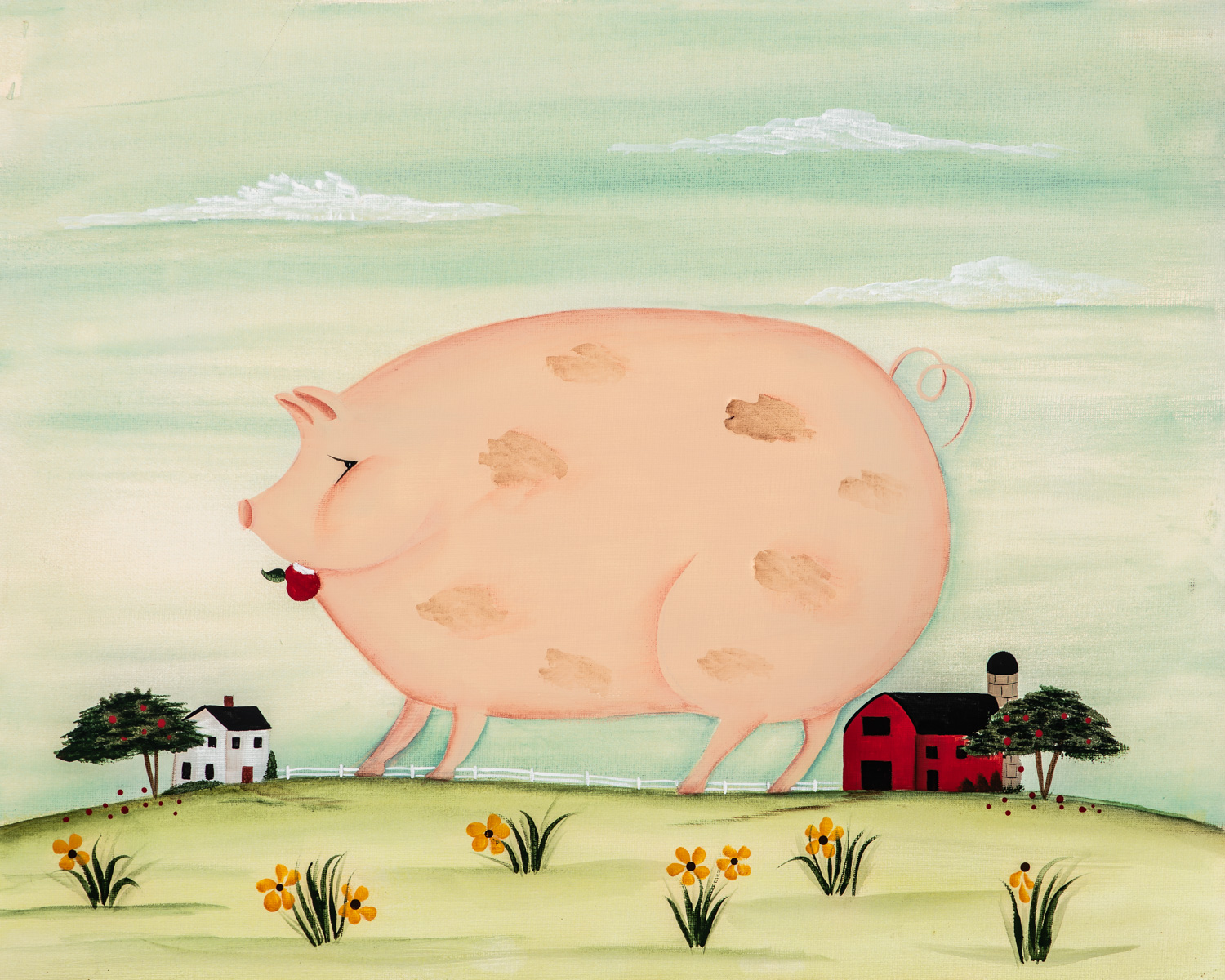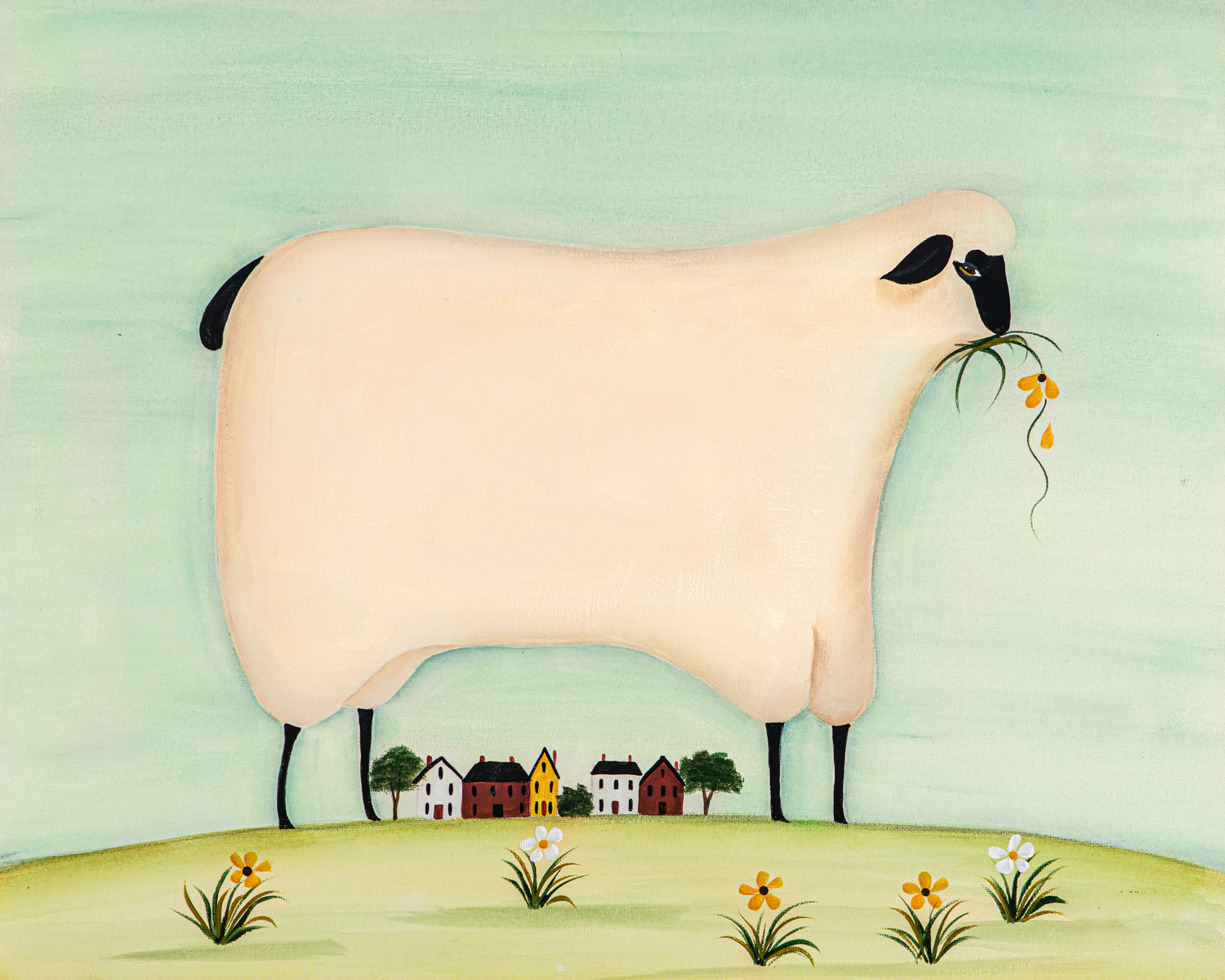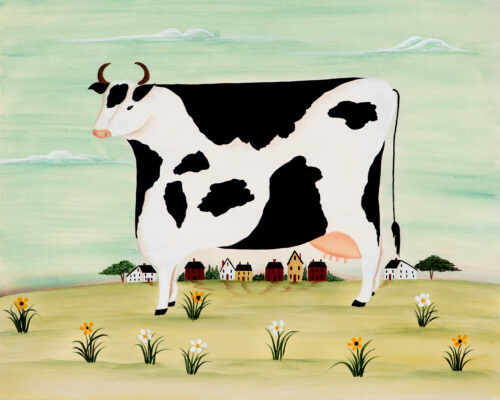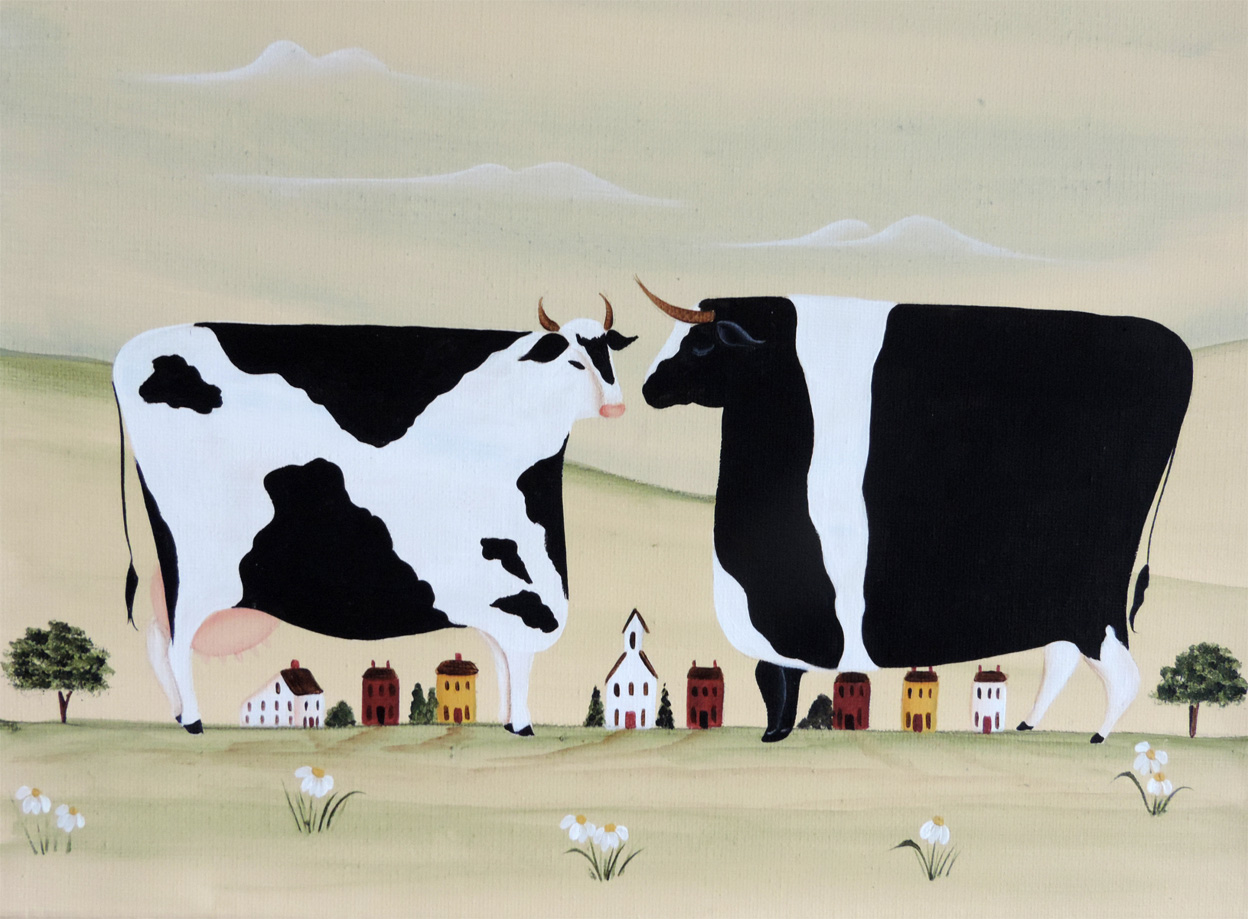 Prize Holsteins
This painting was created to be an anniversary card. Must be loved!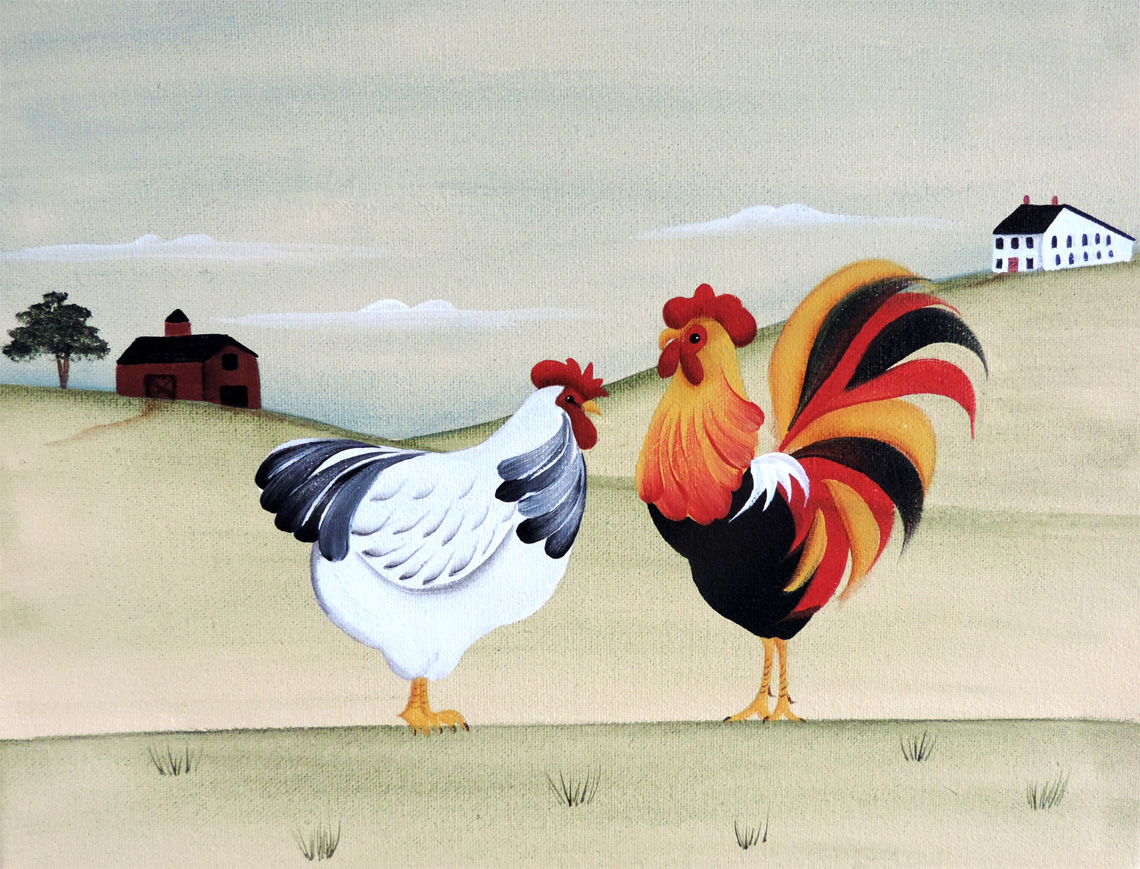 Hen and Rooster
The farm is my favourite theme and what farm is complete without a hen house. I love this pair. They seem to be courting.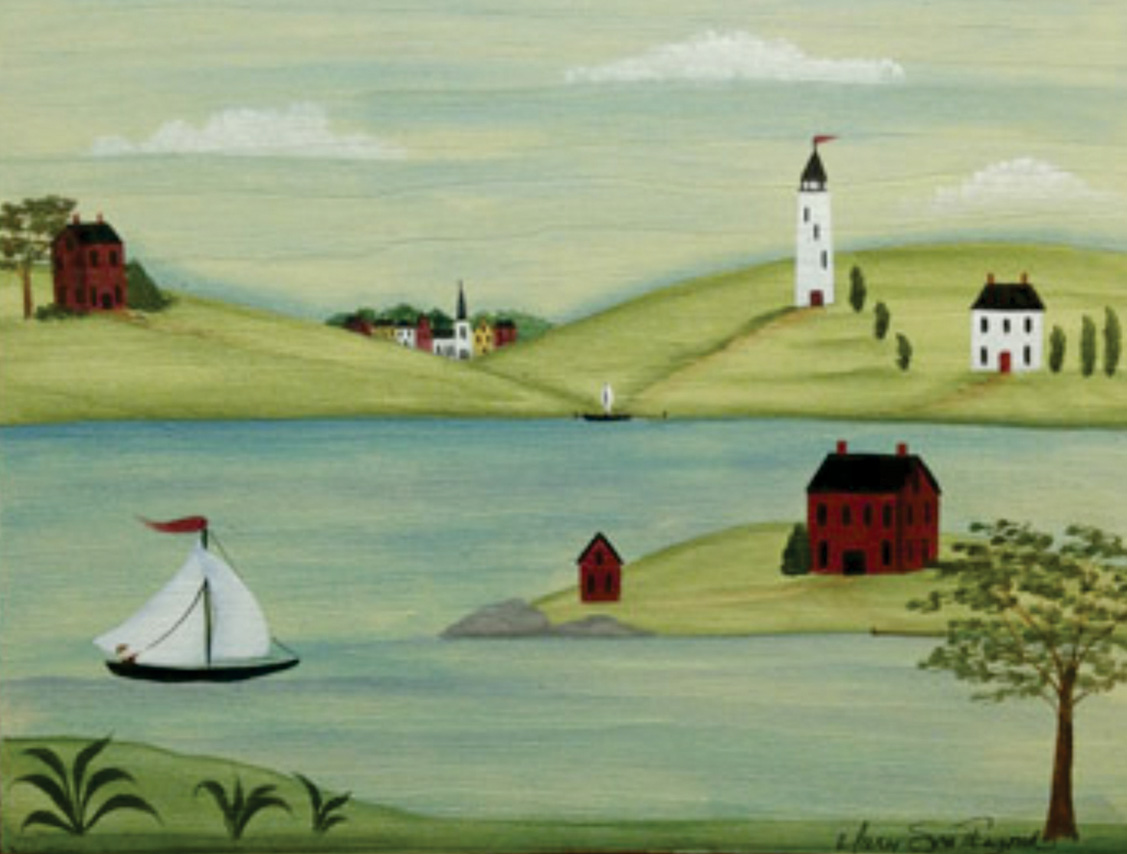 Folk Art River Scene
I am a huge fan of the work of 18th century artist Rufus Porter and have created many paintings in this style after a wonderful boat trip down the St. Lawrence River one summer.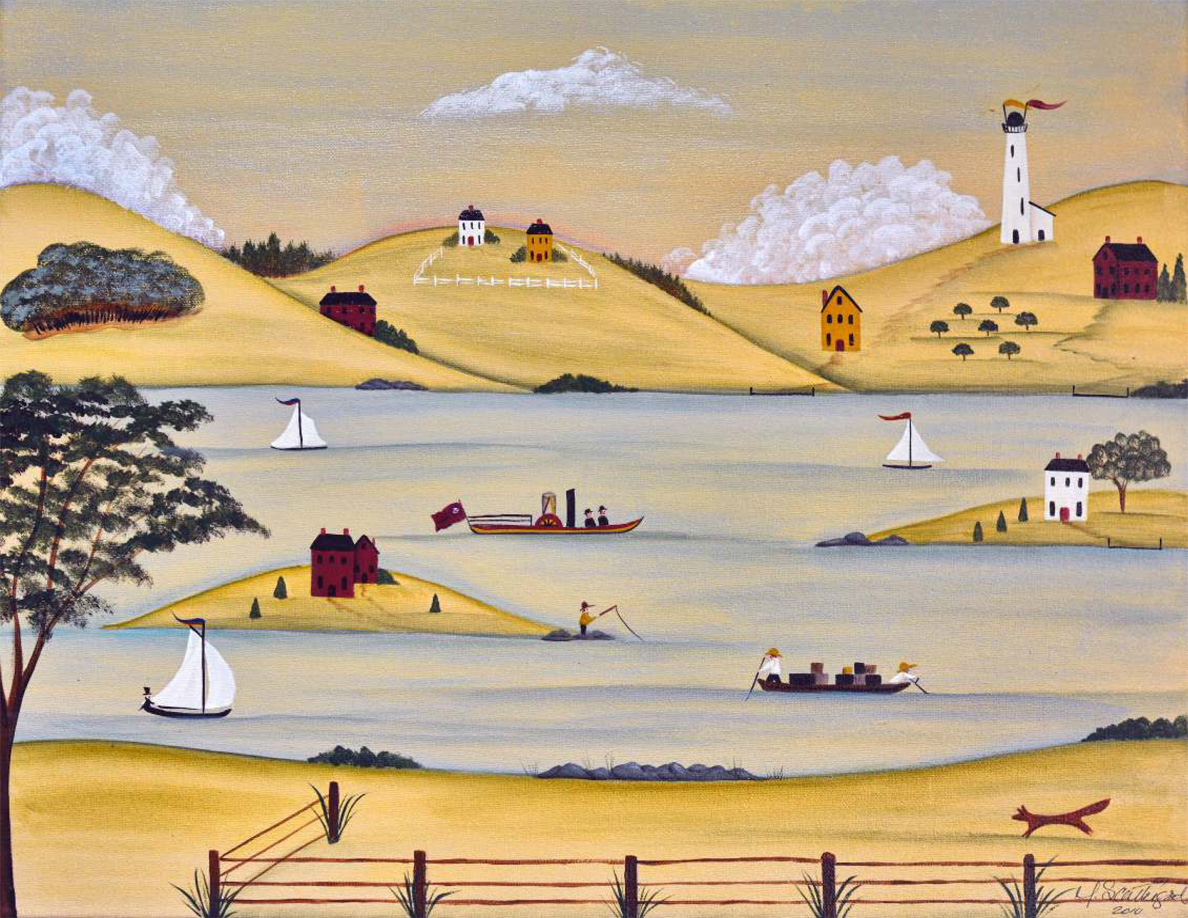 Rufus Porter
A most amazing man. He lived from 1792 until 1884 in New England. He was an inventor, artist, author and the founder of the magazine Scientific American, which is still published today. I discovered one of his murals in New Hampshire many years ago and I have been fascinated by him ever since. I took a wall mural class at the Rufus Porter Museum in Bridgton, Maine and this painting is a result of that class. His simple style definitely influences my work.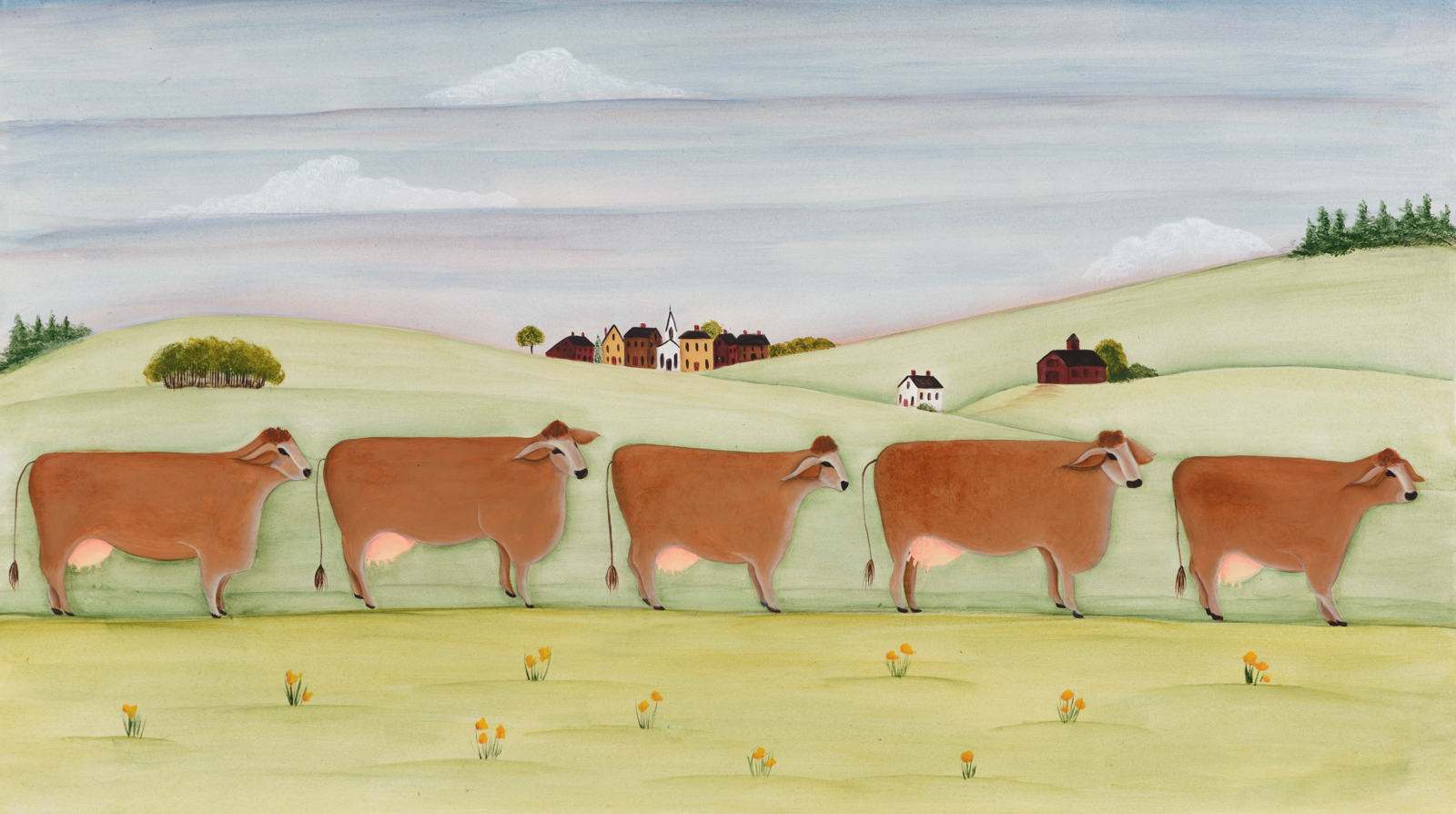 Guernsey Girls
Having spent some time on Guernsey in the Channel Islands, I came to love the almost orange butter and the lovely
rich milk. There are so many delights
in this quaint little world and the
Guernsey Girls are one of them.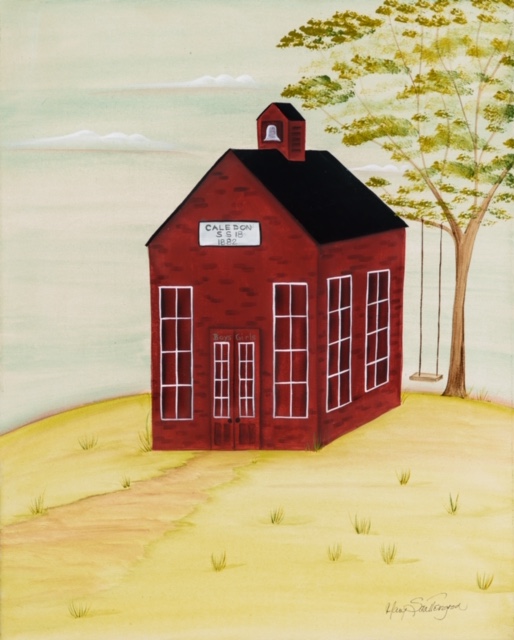 Little Red Schoolhouse
When our children were young they loved to go to the outdoor centre just up our sideroad. The building was the local one room school house and I couldn't help imagining it in a bye-gone era. I put this little schoolhouse in my Memory paintings whenever I can. I think I would have enjoyed attending a one room schoolhouse and I thought that lovely old icon deserved its own presence.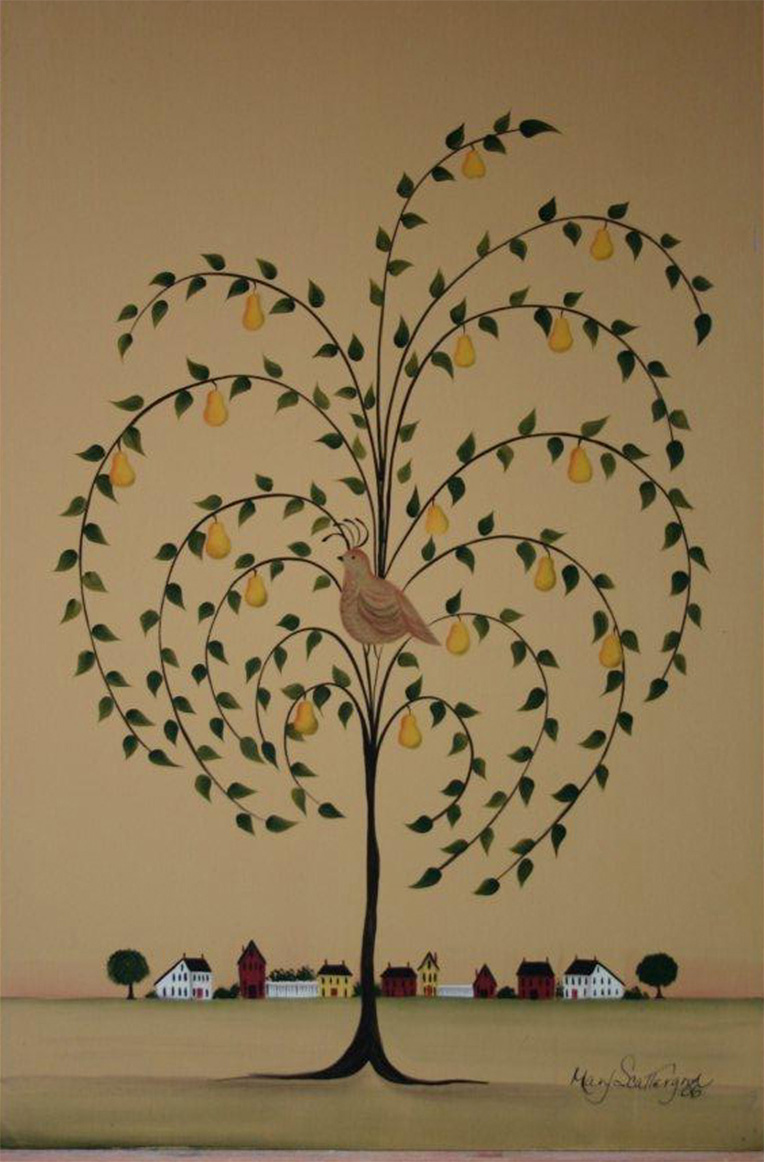 Partridge in a Pear Tree
This is a traditional early American style often found in mourning pictures and young girls' needlework from the 1700s and 1800s. I like to think of it as the tree of life. I often use it for baby gifts but the partridge and pears make it perfect for the season.
Original Sold
Giclee Reproduction Available
Sometimes when I get stuck on a Memory painting I give my imagination a rest and try something else for fun. I was playing on a small black canvas with different brushes and white paint and presently my stippling brush had created a sheep. I quickly prepared several black canvases and began to paint my Black and White Flock.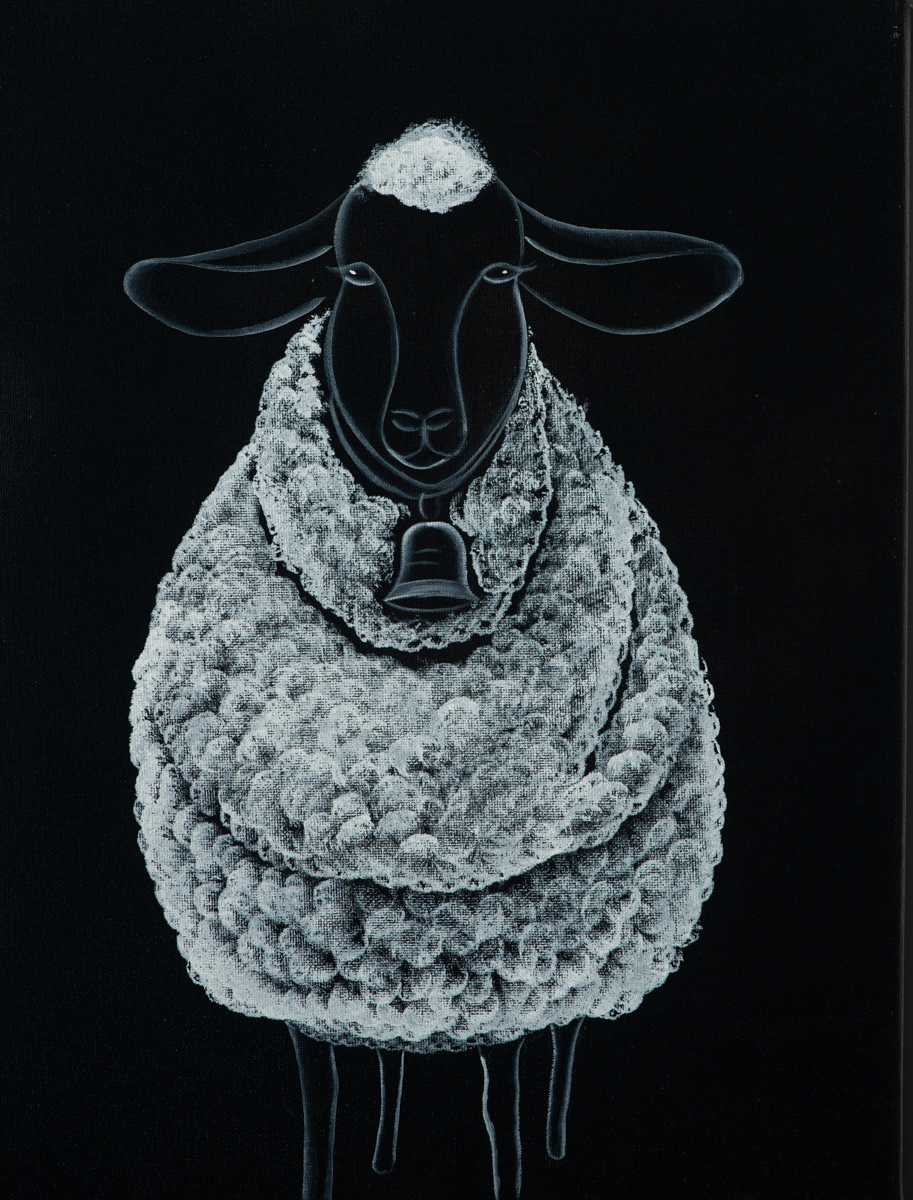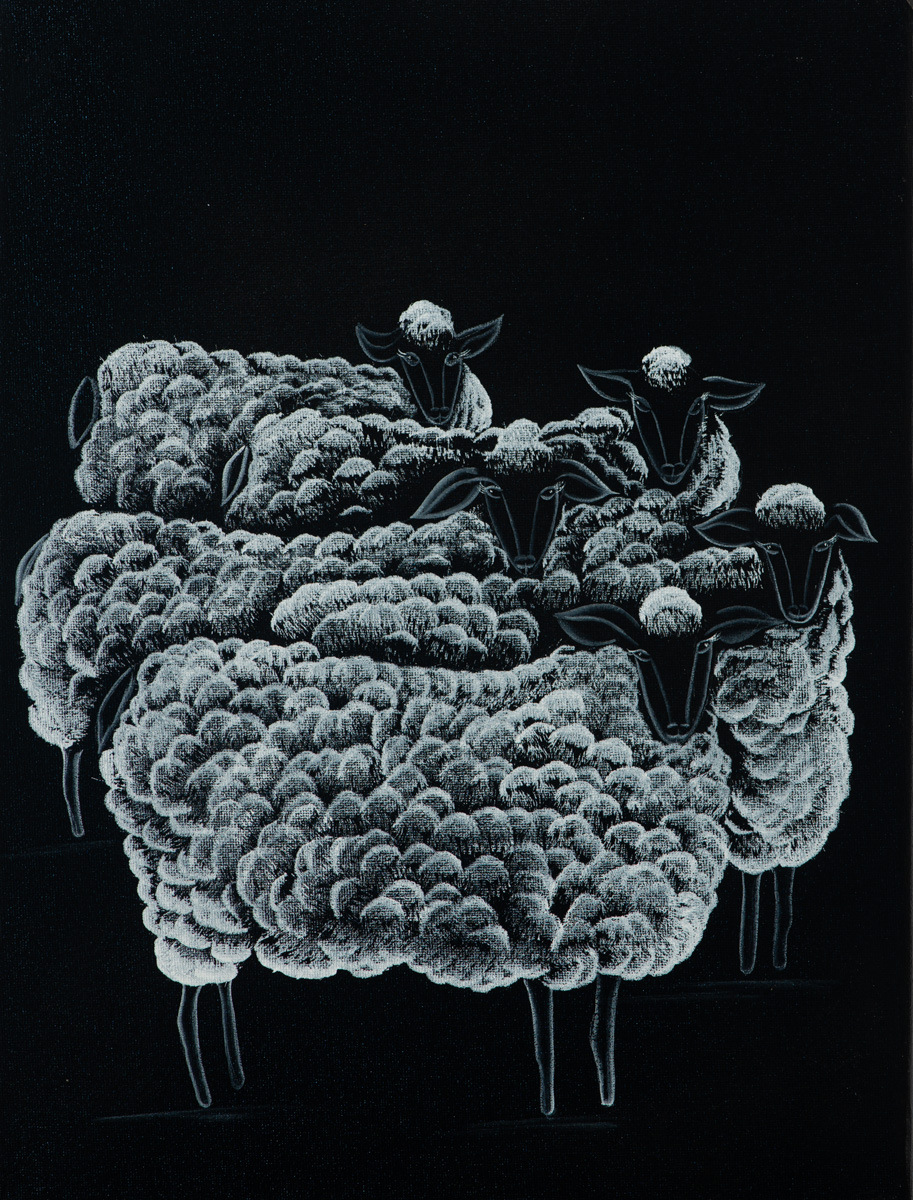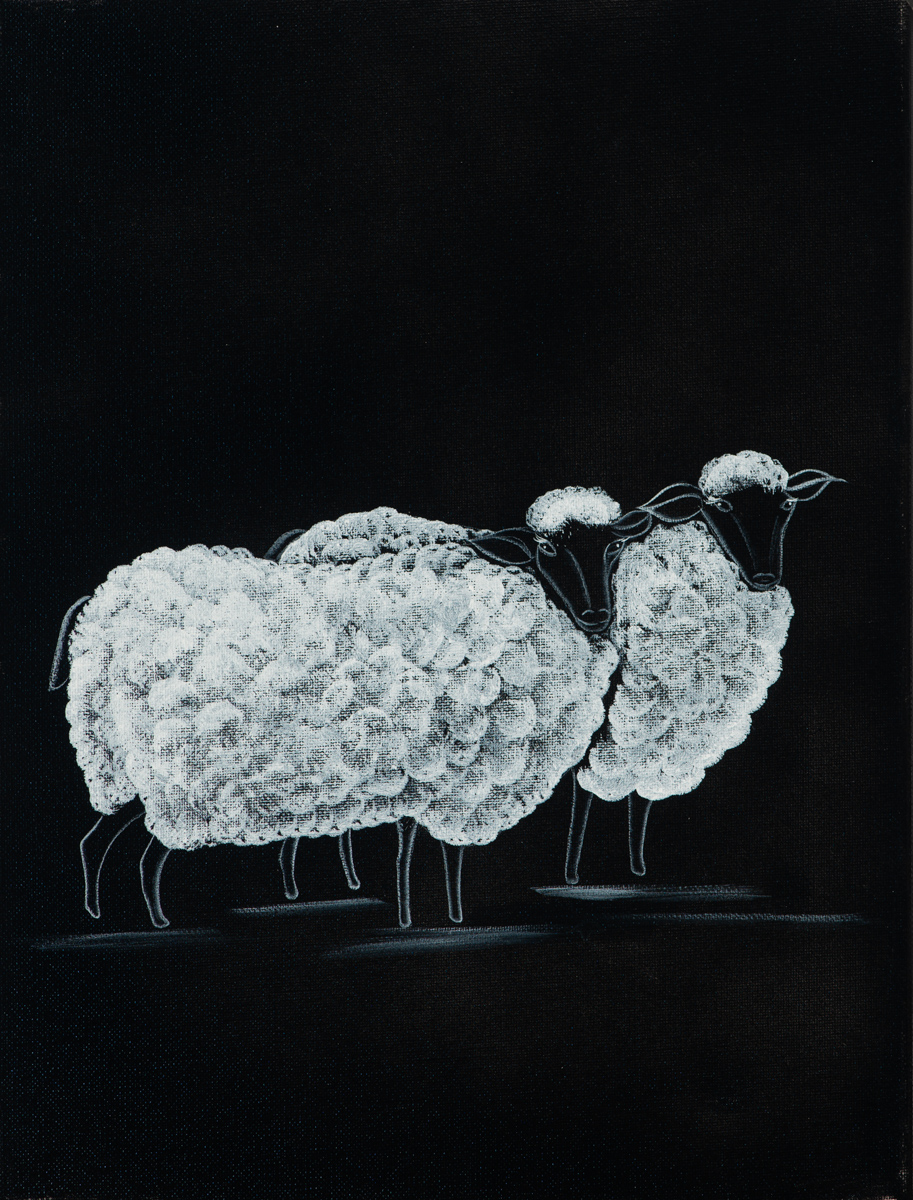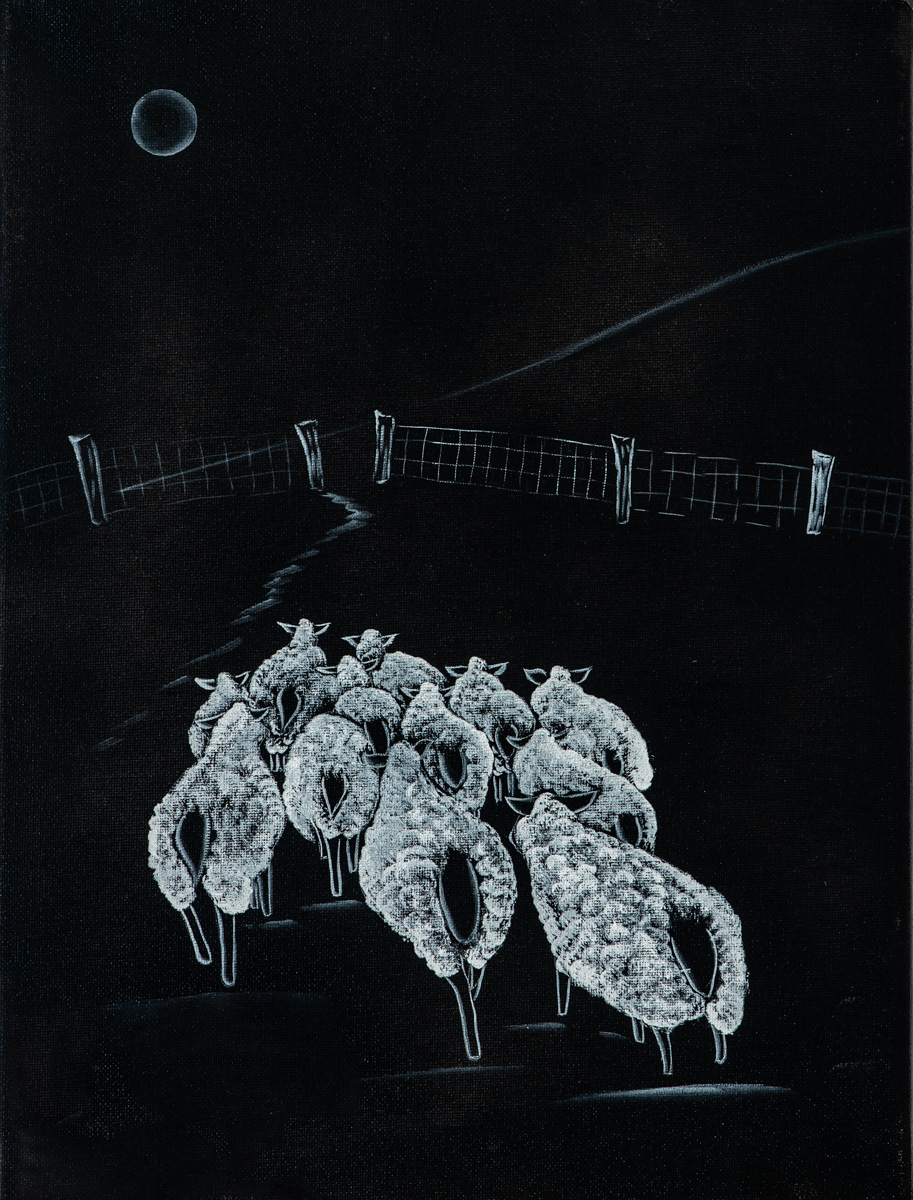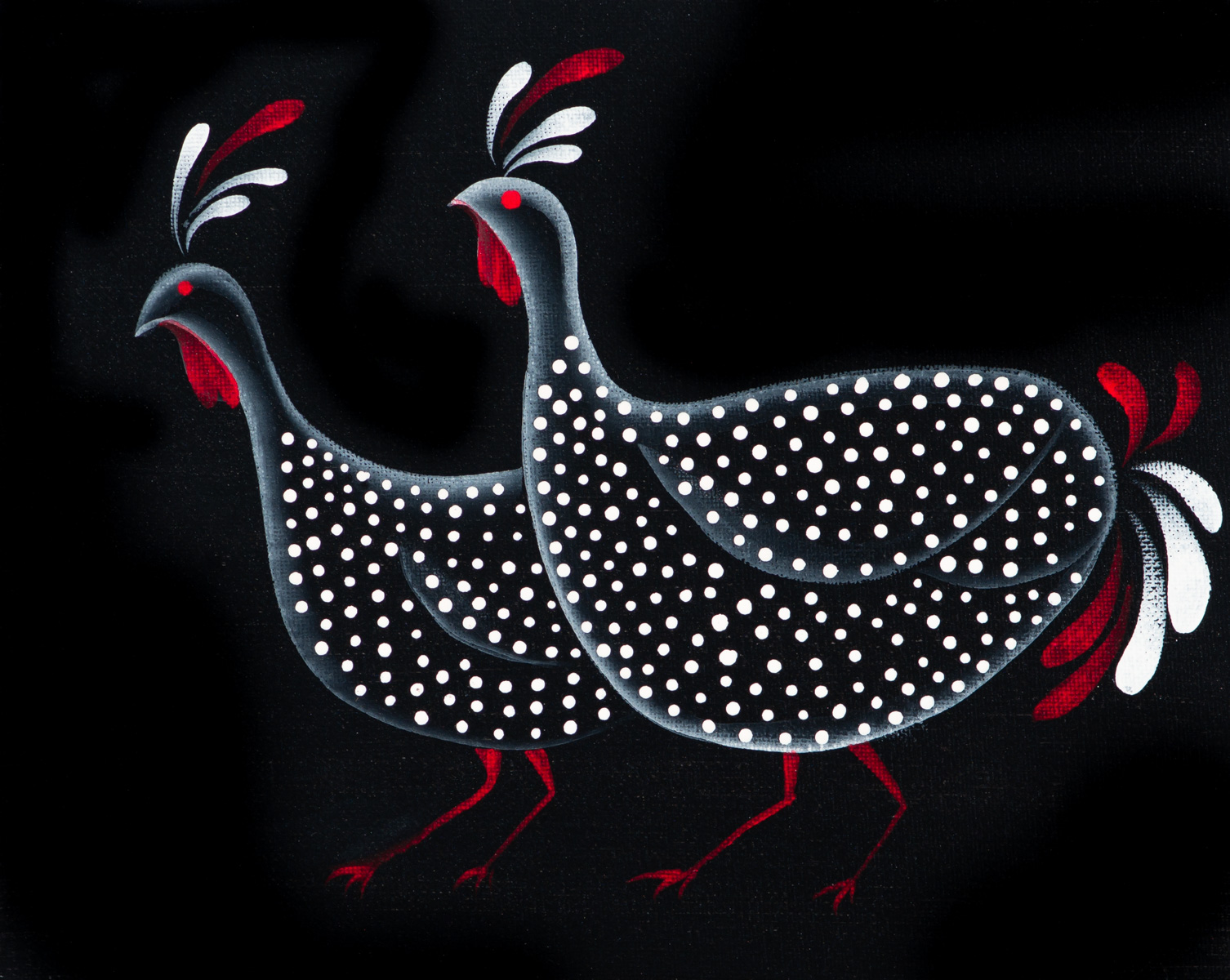 Guinea Hens
One of the most wonderful experiences of my life was a safari in South Africa. I was in awe of the big five but I fell in love with the Guinea Hens. We would round a bend on the dirt road and twenty or thirty of them would raise their heads, stare for a few seconds then scatter in a flurry. It always made us laugh. Adorable!

Mute Swans in Winter
As a small child I had a close encounter with the swans of Wells Cathedral in England. Because of that experience I have always had a fascination and a healthy respect for these beautiful creatures.
Original Sold
Giclee Reproduction Available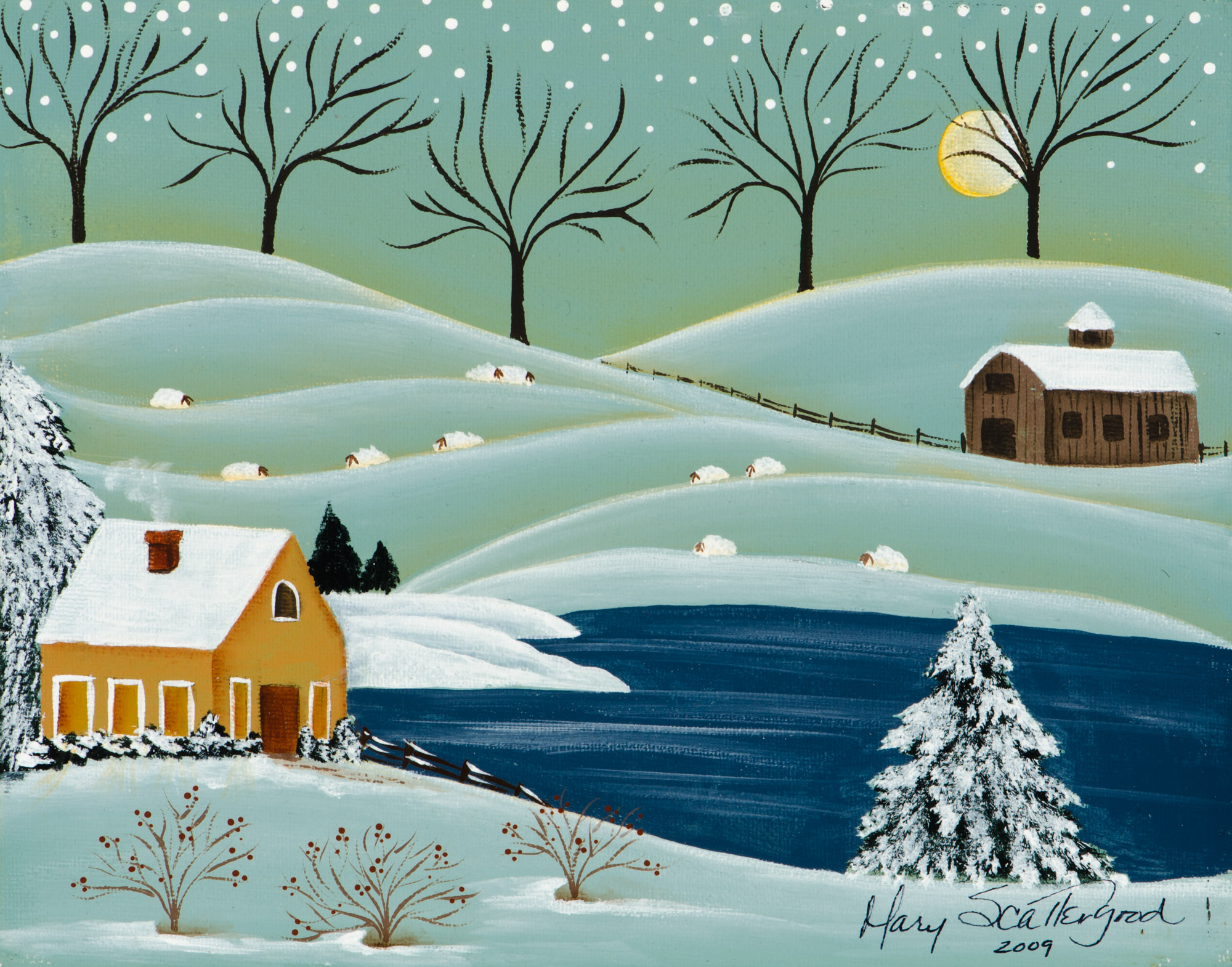 Winter Farm
A few years ago I painted a series of farms in winter. One of the things I love about them is their tranquility. The great stretches of snow covered fields and the quiet barns and houses make me think of hibernation. Farms seem to sleep in winter. Dairy farmers would not agree.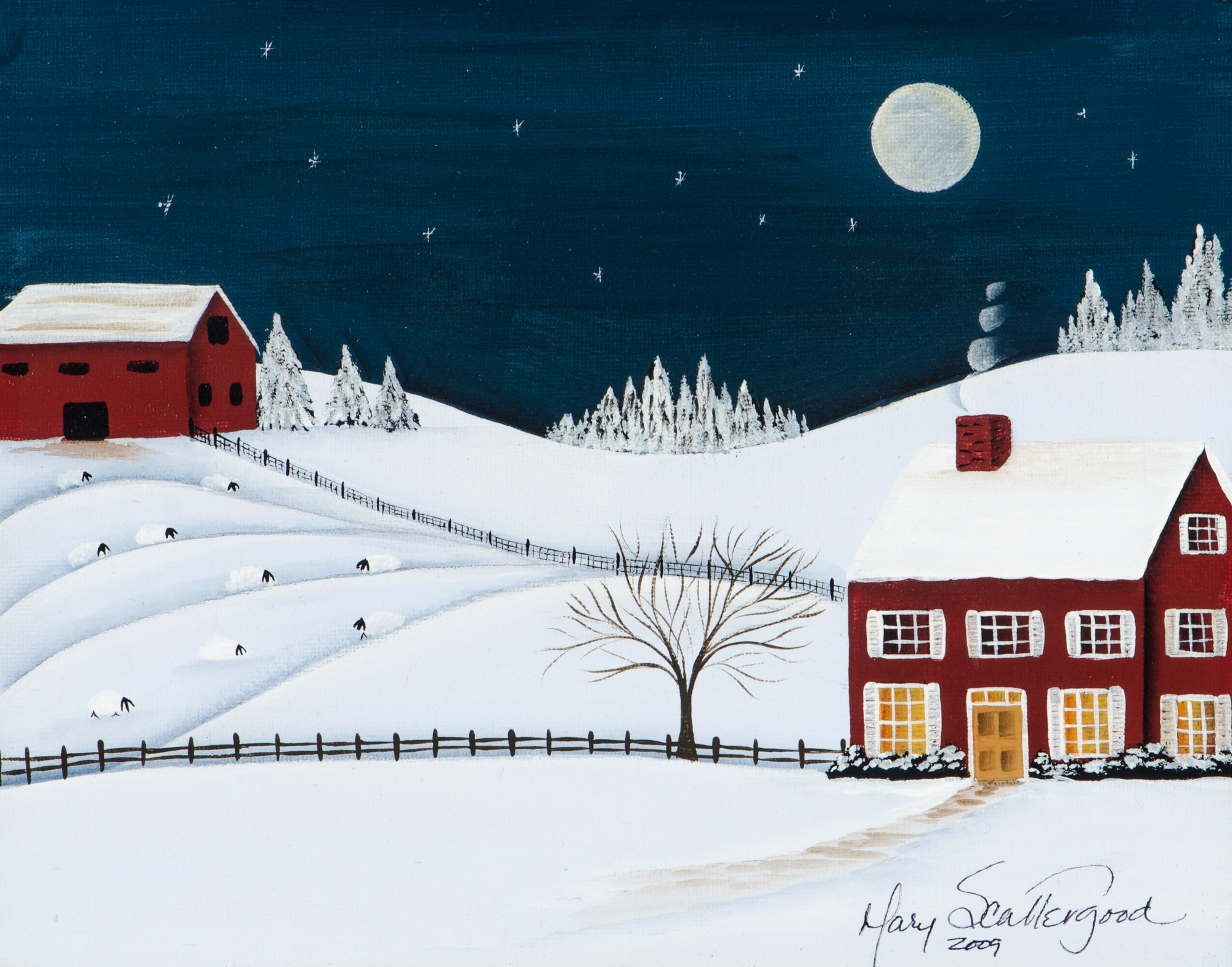 Winter Farm at Night
Nothing creates a sense of peace and joy like a quiet, starlit December night in rural Ontario.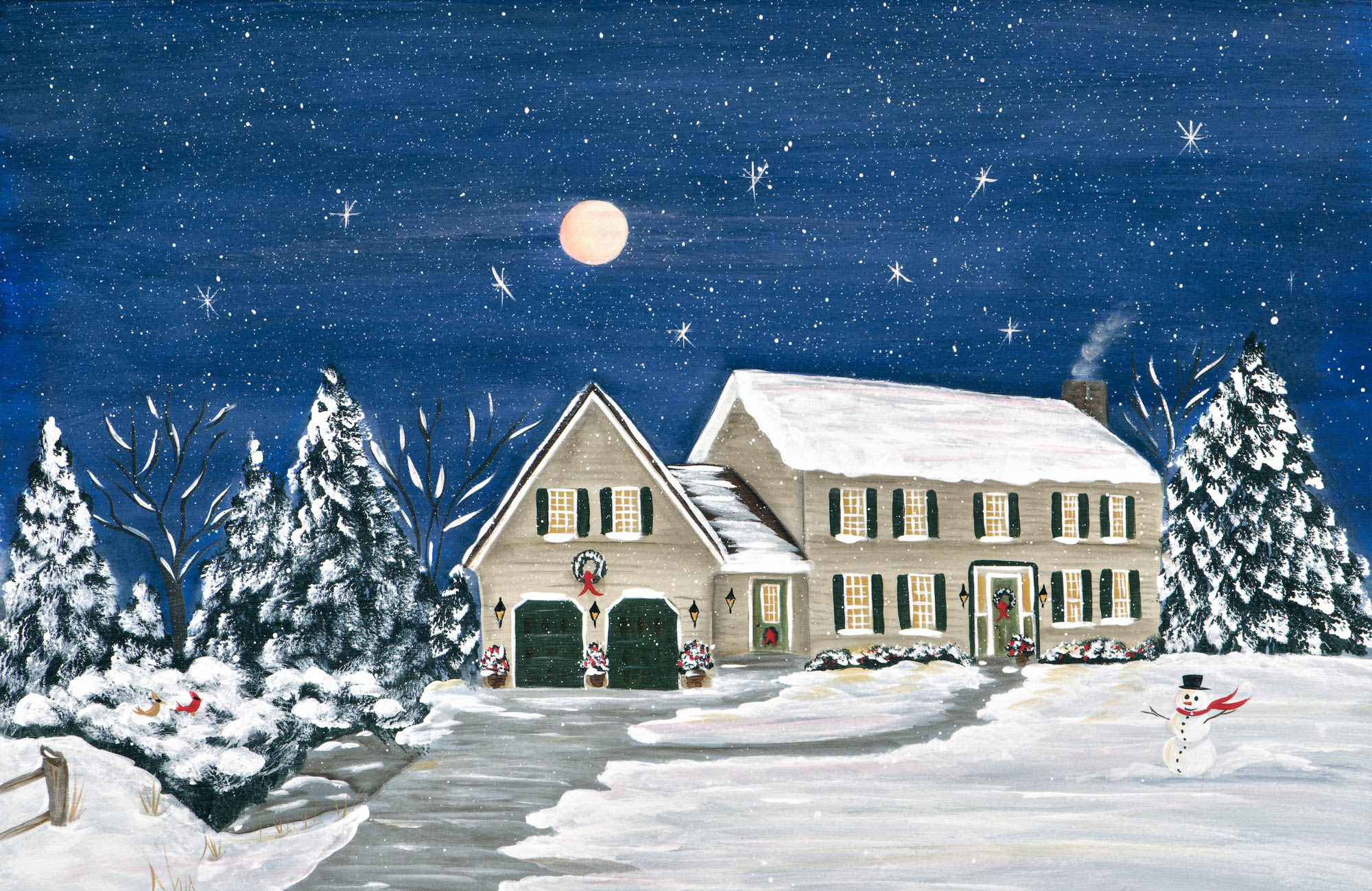 Our House
This lovely house in Kleinburg was our home for 17 years. We grew together as a family, added a son in law and three beautiful grandchildren, and shared its welcoming grace with many friends and family.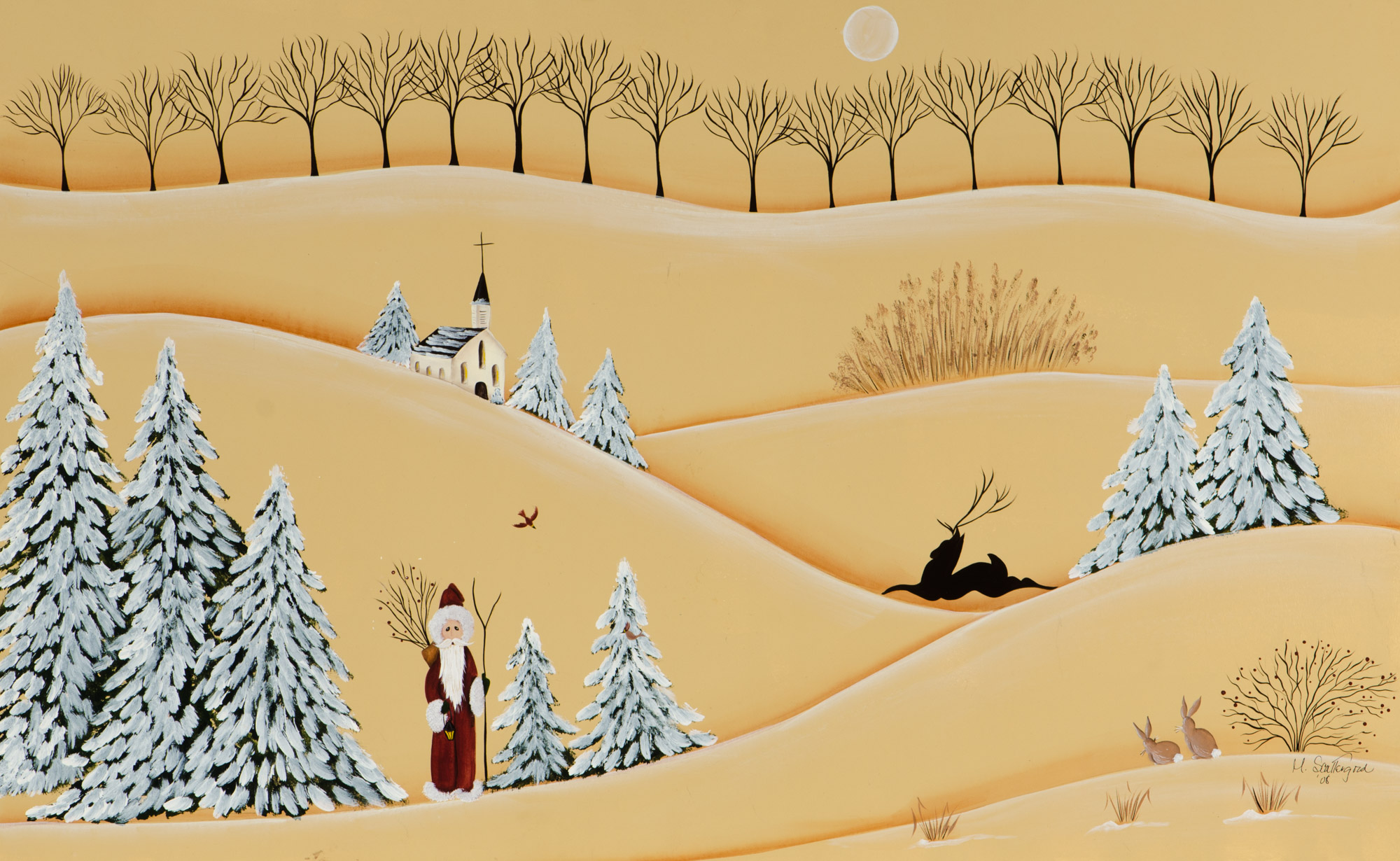 Woodland Santa
This little folk art Santa is my favourite. He is from a time before the frills of the Dickens' Victorian Christmas and I love the simplicity. I painted the landscape with simple folk art icons such as the leaping stag and the little church to complement his style.